Happy Halloween, Y Family!
While traditionally the main focus at Halloween is to indulge in our favorite sweet treats and candy, there are plenty of ways to sneak some healthy and festive recipes into your holiday! If you are trying to stay healthy while still serving spooky snacks, check out our Top 10 favorite ghoulish recipes below.
From all of us at the Y, we hope you and your families have a healthy, safe, and fun Halloween!
Celebrate Halloween with these spooktacular healthy stuffed peppers. They're perfect for a family dinner ahead of trick-or-treating!
These sweet treats are perfect for a Halloween snack. Just press chocolate chips into half of a peeled banana so that they resemble a ghost face!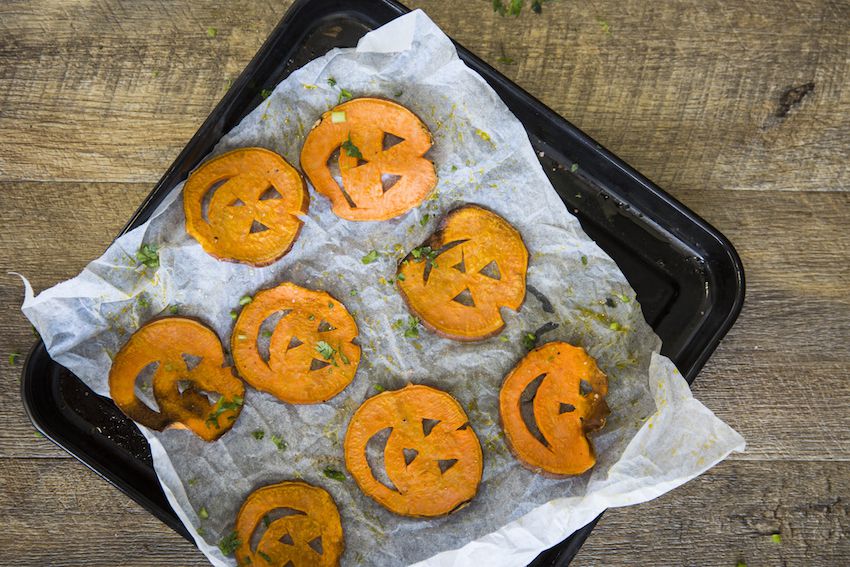 These sweet potato chips are a healthy alternative to fried potato chips and are perfect to break up the sweet treats!
This might be our favorite new way to serve crudités. Bell peppers as ribs? Genius!
(via Feeding Frenzy)
These apple wedges are seriously spooky! We might suggest turning two of the sunflower seeds around to make a vampire version as well.
(via Natural Noshing)
This adorable Jack o lantern sandwich is easy to make and frightfully fun to eat!
These banana pops are a great alternative to sugar-filled ice creams and lollipops. If you want to go totally refined sugar-free, but keep things delicious, use Greek yogurt instead of white chocolate.
These are fun, quick, and easy to make with snacks you likely already have like pretzel rods and cheese sticks!
Cute, festive, and just a little creepy, this spider Halloween grilled cheese sandwich will have your kids giggling and grinning.
These Zombie Fingers Halloween party favors are no-bake Halloween treats that kids and adults alike will love. They are suitable for Gluten-Free and Vegan diets too.